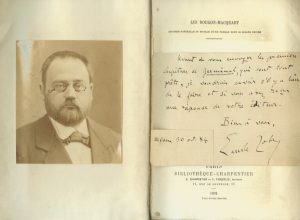 About the Collection
The Collection Théâtrale André Antoine is a collection of material related to 19th and early 20th century French theatre.
The material was received in the Spring of 2010 from Professor Marilyn Kidd of the University of Western Ontario on behalf of Professor James B. Sanders, a 19th and 20th century theatre specialist who spent his career at the University of Western Ontario. Sanders collaborated for many years on the publication of Zola's correspondence, a ten-volume project which was completed in 1995 at the University of Toronto. As the records from this project, the Emile Zola Research Program, are located at the University of St. Michael's College, Professor Sanders wished for his books and documents to be located here as well.
The Collection consists of papers from director André Antoine; letters from Antoine; letters to Antoine from various playwrights, whose plays he staged; photographs of actors and actresses; letters from various members of Antoine's family; 40 autograph letters from Emile Zola; letters from and to journalist Léon Deffoux; letters from and to Maurice LeBlond, Emile Zola's son-in-law; letters from and to playwright Georges Ancey and his wife; several first editions of Zola's novels, some with bound autograph letters; more than 80 plays in their original wrappers, bearing dedications by the authors, approval stamps from the Censorship Bureau, or stage directions; photographs of actors and actresses from the turn of the century; as well as correspondence from playwrights, journalists, and novelists; periodicals and playbills. Throughout the Collection are photocopied documents, collected by Sanders, as contextual material about the era and referenced events or articles within the correspondence.
---
Finding Guide
The Collection is 2.4 metres in extent and has been arranged into 5 series:
Letters and Collected Material
Theatre Documents
Scrapbooks
Autograph Letters of Emile Zola
Naturalist Novelists Series
Some material is restricted see item level descriptions for details.
---
Books
Books from this Collection, including Zola's first editions are searchable through the University of Toronto catalogue
---
Related Material
Emile Zola Research Program fonds