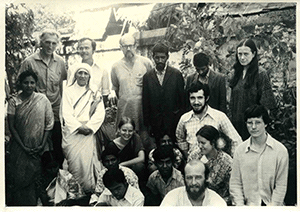 About the Collection
L'Arche International (also known as International Federation of l'Arche or simply l'Arche) is a network of communities across the world in which people with and without intellectual disabilities live and work together. The organization was founded by Jean Vanier in 1964 and today there are 131 l'Arche communities in over 30 countries. L'Arche also offers educational programs and retreats, many hosted by Jean Vanier himself.
This collection contains recordings of events hosted by and involving members of l'Arche International/Internationale between 1968 and 1992. Materials include audio cassettes, videocassettes, film reels and audio reels. Much of the material features recordings created at L'Arche retreats internationally. In addition to Vanier, prominent speakers featured at retreats include Henri Nouwen, Joe Egan, Robert Larouche and Sue Mosteller. The collection was maintained by the L'Arche Daybreak community of Richmond Hill, ON until it was donated to the Archival and Manuscript Collections of the Kelly Library beginning in 2004.
---
Finding Guide
This fonds has been arranged into 8 series:
Head of House and regional meetings
Covenant retreats
Faith and Sharing
Federation meetings
Assistants' retreats and meetings
L'Arche Renewals
Recordings of other events, talks, and speakers
Audio reels and film reels
---
Related Material
Henri J.M. Nouwen Archives and Research Collection