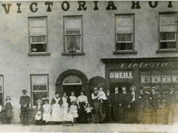 About the fonds
Patrick O'Neill was an Irish politician, living between 1875 and 1938. O'Neill lived in Northern Ireland and was an active member of the Nationalist party. The Patrick O'Neill fonds is a collection of papers pertaining to his political life as well as some personal records and memorabilia.
The fonds consists of incoming and outgoing correspondence with constituents, government officials, supporters, and other MPs, official documents, political pamphlets and booklets; election posters and flyers; newspaper clippings; personal records (notebook, speech notes); photographs; and personal memorabilia, including a leather pouch with relics of St. Anthony and St. Oliver Plunket. Fonds also includes a sous-fonds of O'Neill's daughter, Teresa V. O'Neill. The Teresa V. O'Neill sous-fonds includes a draft of her doctoral thesis and correspondence related to her role of literary executrix of her father's estate. The fonds contains records ranging between 1875 and 1998, with the predominant dates being 1918-1938.
The papers were donated to the Kelly Library Archival and Manuscript Collections by Seamus Beattie, a grandson of Patrick O'Neill. The material was selected from a larger collection of papers and memorabilia in the O'Neill home by Seamus Beattie and Mark McGowan, Principal of the University of St. Michael's College. The material was shipped by mail from Ireland and received in July 2006.
---
Finding Guide
The fonds is 75.8 cm in extent and is organized into the following series:
Election materials
Correspondence with constituents

Correspondence with constituents, 1926-1928
Correspondence with constituents, 1935-1936

Collected materials
Personal memorabilia
The Teresa V. O'Neill sous-fonds is organized into the following series:
Thesis
Executrix correspondence
Diplomas and certificates
There is no electronic finding guide available at this time but a print finding guide is available in the archives.