About the fonds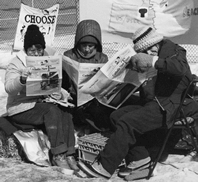 The Catholic New Times was an independent bi-weekely Catholic publication that operated between 1976 and 2006. The Catholic New Times was established as an alternative and independent Catholic voice in Canada, speaking about local, national, and international news and issues of concern to Catholics.
The Catholic New Times Inc. fonds consists of minutes, reports, proposals and other materials prepared for meetings of committees and groups within Catholic New Times from 1976-2006. Fonds also includes incoming and outgoing correspondence from 1975-1983, documents relating to the incorporation of the Catholic New Times in 1976 and subsequent changes in directors; materials documenting the mission and structure of the corporation and processes and procedures for producing the newspaper; subject files containing clippings and reports from organizations of interest to Catholic New Times members and staff, and audio-visual materials created by and for the Catholic New Times.
The Catholic New Time Inc. fonds was donated to the Kelly Library Archival and Manuscript Collections in 2007 by the editor of the publication at the time of its closure in 2006.
---
Finding Guide
The physical extent of the fonds is 48.2 cm of textual records — 114 photographs — 1 audiocassette. It has been arranged into 6 series:
Legal documents and administrative records
Meeting minutes and reports

Membership and board of directors' meetings
Publishing group meetings
Staff meetings

Correspondence
Working files
Subject files
Audio-visual materials
No finding guide is available at this time. Fonds and series level descriptions are available in the archives through the in-house database.
---
Related Material
Catholic New Times: All the issues published between 1976 and 2006 are available at the John M. Kelly Library.