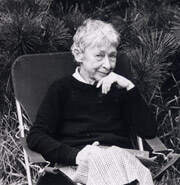 About the fonds
Sheila Martin Watson (nee Doherty) was a Canadian author, teacher and professor of English, living between 1909 and 1998. Watson is best known for her novel The Double Hook, published in 1959 and often credited as the first modernist Canadian novel. She also authored Deep Hollow Creek, which was published in 1992 and nominated for the Governor General's Award for best new fiction that year. Watson wrote several collections of short stories and co-founded the literary magazine White Pelican.
The Sheila Watson fonds consists of journals, literary manuscripts, correspondence, teaching and student materials, reference materials, business and financial records, as well as Sheila Watson's personal photographs and objects. The fonds also includes collections of correspondence purchased and preserved by Watson for the purpose of her doctoral thesis and personal interest in the painter and author Wyndham Lewis. Letters in the collection include correspondence with individuals such as Marshall McLuhan, Michael Ondaatje, bpNichol, Norman Yates and Wilfred Watson. Hand-written journals provide insight into the author's emotions, reading habits and personal struggles throughout her life.
White Pelican was an arts journal co-founded by Watson with her colleagues at the University of Alberta. Watson took a leading role in this project, managing the finances, creating proofs and editing many of the issues herself. Materials in theWhite Pelican sous-fonds include financial records, printed proofs and correspondence between Watson and contributors to the journal.
---
Finding Guide and Publications
The Sheila Watson Archives by Anna St. Onge
---
Related Material
Scrapbook of Samuel Barclay Martin (Watson's maternal grandfather) on the Internet Archive
Marshall McLuhan Material in the John M. Kelly Library
Wilfred Watson fonds at the University of Alberta
Wyndham Lewis Collection at York University