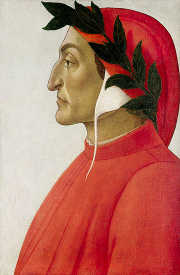 About the Collection
The Dante Collection was donated to the John M. Kelly Library in 2013 by Alberto Di Giovanni and Caroline Morgan Di Giovanni. It is comprised of books by and about Dante Alighieri, especially works which illustrate La Divina Commedia. The collection includes:
facsimile editions of early manuscripts of the Divine Comedy
printed editions of the Divine Comedy, many with illustrations
critical works about Dante
works about the artists who have depicted the Divine Comedy (including Botticelli, Dali, Füssli, Giotto, Guttuso, Michelangelo, Raphael, Rossetti, Signorelli, and Sughi)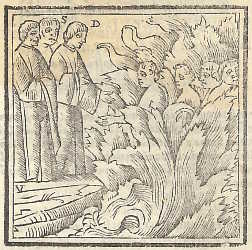 The collection of books is supplemented by a collection of fine art including oil and acrylic paintings, lithographs, and engravings. Among the artists represented are Laura Barbarini, Alberto Sughi, Renato Guttuso, Mauro Bordin, Raffaella Domestici, Malek Pansera, Giovanni Bernardi, and Amos Natini.
Among the highlights of the book collection are:
Dante Alighieri. La Comedia di Dante Alighieri con la nova esposizione. Ed. Cristoforo Landino. Venetia: Bernardino Stagnino da Trino, 1520.
Mazzoni, Jacopo. Della difesa della commedia di Dante. Cesena: Bartolomeo Rauerij, 1587.
Dante Alighieri. Il Codice Trivulziano 1080 della Divina Commedia. Facsimile. Florence: Giunti, 1995. See the digitized original in Milan.
Dante Alighieri. La Divina Commedia di Dante Alighieri in 120 Composizoni di Giovanni Flaxman. Milano: Franceso Barbini, 1822.
Dante Alighieri. La Divina Commedia. Imagini di Amos Nattini. Milano: Edizioni D'Arte a la Chance du Bibliophile, 1958. 3 volumes.
Dante Alighieri. La Divina Commedia nelle Incisioni degli Artisti Contemporanei. Roma: Casa di Dante, Istituto Poligrafico dello Stato e Zecca dello Stato, 1987.
Dante Alighieri. Vita Nuova. Trans. Dante Gabriel Rossetti. Milano: Mazzotta, 1985.
Dante Alighieri. Dante Estense. Biblioteca Estense, Cod. Ital. 474. Facsimile. Scarmagno: Priuli e Verlucca, 1995.
Dante Alighieri. La Divina Commedia di Alfonso d'Aragona, Re di Napoli. Ms. Yates Thompson 36, British Library, Londra. Facsimile. Modena: Franco Cosimo Panini, 2006. See the digitized original at the British Library.
All books in the Dante Collection are listed in the University of Toronto Libraries catalogue.